I'm in love with this favourite things list! Erline is a friend of mine from high school in Vancouver, Canada. Her baby Kathleen is a little less than a year older than Alec and I have found Erline's tips to be really helpful. She encouraged us to try baby signing and Alec is now doing a couple of signs himself!
Here are some of Erline and Kathleen's favorite things: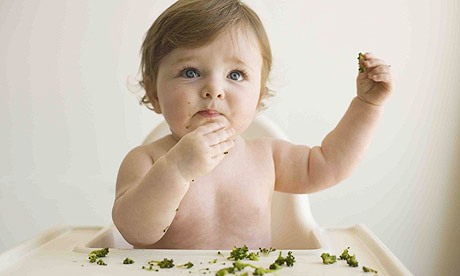 1. BABY-LED WEANING. When starting solids, essentially let the baby feed themselves! We skipped the whole pureed food "stage" as there was no need and I think she developed great fine motor skills quickly from experimenting with finger foods right off the bat! I like their philosophy – we all ate together and didn't get into spoon feeding her (except for soups) until later when she was interested in eating things like cottage cheese. We also didn't need to prepare too many separate meals although we still introduced one food at a time every few days to monitor reactions (rather than what they said – to give baby whatever and they will naturally avoid foods they are allergic to). One of her first foods was salmon! And she loved zucchini sticks at the beginning (around 6.5 months). Warning: broccoli, salmon and rice are very messy (definitely best to eat those items when naked and before bath time!).

2. SPILL MAT. We used a "Spill mat" for under the high chair (which, by the way, I think the Ikea Antilop high chair is the best high chair (other moms I know wish they just got that instead of anything more extensive and expensive!) – easy to transport, and most importantly very easy to clean after meals — no cracks or cushions to get food stuck in…plus it's cheap) as a way to protect our carpet in the dining area, but also to then pick up the food she dropped and give it back to her (because with baby-led weaning there is a lot of mess initially).
3. BABY SIGNING. Totally recommend it as babies can communicate earlier than they develop the ability the speak. We took a class at the community centre at around 5 months and worked at it for basic signs and just when I thought it wouldn't work, she "got it" one day and starting signing at 11 months (milk being the first sign, then eat, more, water, book, sleepy, potty). Now as she's talking more she signs less but picked up "please" and "thank you" a few weeks ago (she will say and sign those).
4. PRACTISING ELIMINATION COMMUNICATION WITH YOUR BABY. We basically started EC with Katie at 3 months: watching her cues for peeing and pooping, providing cue sounds and putting her over the potty when she needed to go. I like the philosophy of it (that babies know that they need to go but can't communicate with us and therefore by keeping them in diapers, they learn to ignore their elimination needs and then need to be re-trained).
5. ERGO BABY CARRIER. Offers the best position  for carrying your baby, has a hood built in for sleeping baby (or the sun). It didn't seem to bother Katie that she couldn't face forward in front – she can look side to side and this way I can talk to her…it can carry up to 40lbs and be used as a back carrier too. The weight distributes around the hips (like when you go backpacking) rather than pulling on the shoulders (like the baby bjorn) so can accommodate heavier kids. It seems to be the popular baby carrier around here! I still use it for carrying her on my front (she's 15 and a half months now) when walking with her back from day care (bike in one hand, baby on front of me)
6. INDESTRUCTIBLE BOOKS. Babies love paper – these are rip-proof, water proof and non-toxic books. Great as gifts.
7. SWIMMIS REUSABLE SWIM DIAPERS. Awesome. We've been using the same one (small size) since she's been 6 months (going swimming at least once a week since she was 8 months) and only just now, a year later, will need to buy a larger one…definitely saves money and saves on stuff going into the landfill with disposables. 
8. NOZONE SUN PROTECTIVE CLOTHING. I got Kathleen a one-piece suit last year when going to the beach, cottage, being out in the sun and even indoor swimming. However she definitely needed one size up (she's average in weight for her age, above average in height). I will definitely get their stuff for this summer as she's playing outdoors way more. We have lots of friends that put on a nozone shirt and shorts for their kids (boys and girls) when they play outdoors in the swim suits. I have a light jacket and some t-shirts. Definitely beats slathering sunscreen on all the time! I think it's a good investment.